PA Has Zero Alcohol Tolerance Policy while operating a snowmobile. Please be smart and safe.
To Donate to the general/groomer fund click here for payment instructions.
West Creek Recreational Trail Association is looking for volunteers to help maintain sections of trail.
This is the section between West Creek and Emporium.
Click here to register.
Rich Valley Road – Shippen Township approved the use of the road from the county line to Driftwood branch of the Sinnemahoning Creek bridge. Please be respectful and ride responsibly.
Shawmut Grade Trail Opens 3rd Sunday in January Until April 1.
NOTICE:2019 Shawmut Grade Trail is closed to snowmobiles due to Oil and Gas and culvert replacement in Naval Hollow.
There is a temporary re-route using Deer Pen.  (Naval Hollow Road and Doe Run Road are closed in sections), view Maps for more detail. dcnr_201516

DCNR, State Forest and State Park Trails are Open 12/11/18 and close April 1.

ANF Trails Open 12/11/18.
Thanks to the groomer operators who dedicated their time to keeping the trails smooth.
Snowmobile season on State Parks and State Forest Lands begins the day after the end of antler-less deer season (Dec. 18, 2016) until April 1.
Allegheny National Forest Trails
GPS Trailmasters Map – Eastern US/Canada Snowmobile Trails
Important Note:
The trail from the grade using Deer Pen Road has changed to get to Naval Hollow Road.
Take Deer Pen to Hooters Road, cross Briggs Hollow Road and go into the woods on the trail down the valley. Do not take Deer Pen to Naval Hollow as that is now closed due to Oil and Gas. Naval Hollow Road is open to Briggs Hollow intersection only.
Our trail from St. Marys to Clermont has changed. We do not use the trail down along County Line Run to the old Pensy Grade. Do not take this trail because the bridges have been removed.
On North Fork Road, the trail will be along side the road from Ospeck Road to Lukes Run Road. Take Lukes Run Road to McElk Road, as short time on Doe Run Road and the turn onto Butcher Road and follow that to Buck Run Road.  Follow Buck Run Road for approximately 1.1 miles to the bridge over Pennsylvania Run (head end of the Clarion River). After crossing the bridge travel about 100 yards to the Pensy Grade and turn right. From here it is about 2.5 miles to the Wilcox Clermont Road.
The Railroad bridge over West Creek in Emporium is now open (provided there is snow).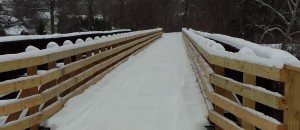 The club has put all new decking on the existing railroad ties. Please proceed with caution and go slow since this is a residential area, but this opens up a whole new location for riding, food, and fuel.
There is no fuel from the trails in St. Marys. If you are coming from Emporium, fill up there(Quick Fill, Sheetz only gas station directly on trail, or Fuel On) prior to continuing on the railroad grade.
Free App for Snowmobilers (Polaris App)
GPS capabilities on your phone.
Some capabilities are:
– See your current GPS location
– View maps of U.S. snowmobile trails combined with lodging, restaurants, fuel, Polaris dealers, medical, snow depth, weather, and any waypoints you save overlays
– View snow cover, weather conditions and advisories for any U.S. location
– Track and save multiple snowmobile routes, plus trailheads, scenic spots and other waypoints on the trail, complete with photos and descriptions
– View stored maps on the trail or outside data coverage, thanks to automatic map caching
– Sync your account data to the cloud and across multiple devices
– Export route data in GPX or CSV format
*Continued use of GPS running in the background can dramatically decrease battery life.
You can setup/sign in with an email address to be able to set waypoints/track where you have been etc, or use it as a guest just to get maps/locations/etc.
Snow Trails for Android
Snow Trails for iPhone
*** Use any maps/gps coordinates/software at your own discretion. Shown may or may not be public trails.